Imagine going to a store to buy breakfast cereals. Of course, you would head right up to the snacks and branded food section. But, what if you found gourmet bread in its stead? Or, found the snacks section next to the personal care section? It would be rather challenging to navigate the store and find the things you need to buy. Product taxonomy solves this very problem for both online and offline stores. For any ecommerce store to kick off, online sellers need to develop effective product taxonomies.
But, before we get started on why product taxonomy is crucial for your ecommerce business and how you can create the perfect ecommerce product taxonomy for your online store, let's get into the details of what exactly product taxonomy is.
What is an ecommerce product taxonomy?
An ecommerce product taxonomy is your products' structural and functional organization following a hierarchical system. Although, it does not mean one can throw a few similar products into one category or display your top ecommerce product categories on the website menu.
Product taxonomy is a little more complex than that.
To create an ecommerce taxonomy that increases your sales and conversions, you need to understand your product's attributes properly. You need to know which related products fit together into one category. If your online store visitors can navigate through the website easily and instantly find what they are looking for, your chances of making a sale increase by 50 percent.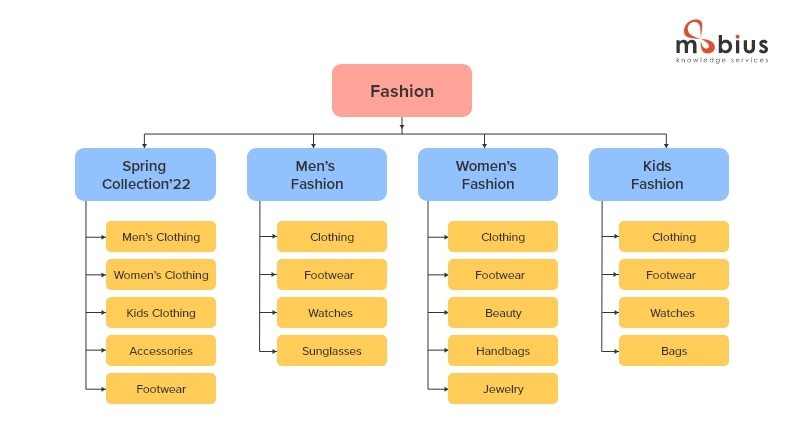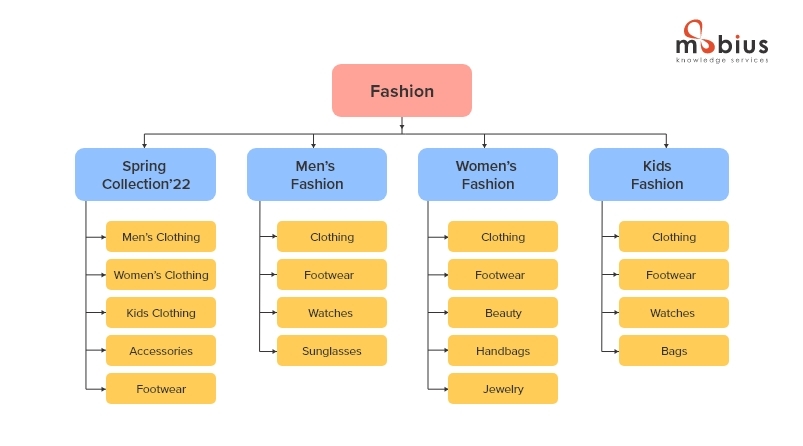 If you refer to the ecommerce product taxonomy displayed above, you will find that all the related products are clubbed into a single, relevant category. A well-crafted ecommerce taxonomy is crucial for your online store because your customers need to be able to find the product they are looking for to make the purchase. Ecommerce sellers can leverage taxonomy consulting services to build the perfect taxonomy for their sites.
Why is product taxonomy crucial for online retailers?
A detailed and well-laid product taxonomy is your stairway to ecommerce success. The world of ecommerce is so vast and competitive that customers immediately exit an online store if they don't easily find what they are looking for. Most internet users have a very short attention span, and if your website or online store cannot capture their attention within seconds of landing on your site, they are most likely to abandon the search.
You must think that customers can use the search bar and land on the product page directly. The issue is that search engines fail to fetch results if the data is not well-organized. Here, taxonomy consultants can help with accurate product classification which is crucial for the search function to provide precise results.
Creating product taxonomy to increase sales
Websites that fail to have structured ecommerce product categories make half the sales their competitors make with well-organized product hierarchies and taxonomies. It is evident that website visitors give up finding a product that is not easy to locate in your online catalog.
Every online store gets two kinds of visitors – searchers and browsers. Searchers are the ones who know what they need to buy even before they get to your website. On the other hand, browsers navigate your website, so it is crucial to have the right products placed in the correct categories.
You know you have crafted a logical ecommerce taxonomy when you can display all the products in relevant categories, making it easier and instant for visitors to find the product they are looking for. 
Get your ecommerce product taxonomy reviewed
We can assist you in creating well-structured, logical product taxonomies for your ecommerce website. Benefit from our taxonomy audits, which find critical gaps in your taxonomy down to the category levels and recommend the most suitable taxonomy for you.
Building product hierarchy to improve SEO
A product hierarchy allows you to group your products and determine the relationship between the products and groups at different levels, for example, Personal Care < Hair Care < Shampoo. If your products follow a proper hierarchical structure, it will positively influence your website's Search Engine Optimization (SEO). A well-structured ecommerce product category hierarchy will make it simple for search engines to crawl through your web pages and show accurate search results.
Your online store will perform better in online searches if you have keyword-optimized product details and descriptions for every product you sell. Searchers are more likely to look for a product using a particular keyword while buying.
To further improve the visibility of any online store, online sellers can improve the category and subcategory pages, product descriptions, brand content, and more. By doing so, your website will get ranked better in the search results. You also enable your visitors easy and quick access to the products they are looking for and deliver a better user experience.
However, creating a structured product taxonomy in ecommerce is not easy, especially when you have 1000s of SKUs. Here, a taxonomy consulting service can help you enable effortless navigation with industry-standard taxonomies.
How do
taxonomy consultants
create perfect product taxonomies?
Developing a product taxonomy is organizing your products using logic. But, it does not stop at that. Your strategy should be extensive if you want to make the most of your online business. Taxonomy consulting services follow these below-mentioned steps to create a successful ecommerce product taxonomy that skyrockets your sales.
Accurately classify your products
Product classification is necessary to maintain your brand's credibility and optimize product discoverability. Taxonomy consultants help online retailers, sellers, and distributors by classifying products based on correctly mapped categories and fixed product characteristics.
A diversified classification approach requires the identification and validation of product matches. It also involves adding new products and reorganizing wrongly categorized products to ensure product classification accuracy.
When product data is classified for your online store, the products are validated and classified based on every attribute range for accurate search results when a filter is applied.
Precisely define product attribute sets
Attribute sets defined on a category level, including all possible compatible values, pave the way for a well-structured ecommerce product taxonomy. It enables your visitors to easily find products simply by filtering the category, providing a good user experience.
Product attribute set creation includes collecting mandatory key attributes, value-added attributes, product dimensions, manufacturer details, product URLs, warranty information, and much more. It is crucial to analyze the visitor journey and assess product search feasibility before implementing a specific ecommerce taxonomy.
Taxonomy consultants refer to manufacturer and competitor websites and catalogs to determine which key product attributes are relevant and needed for the products you sell. Product search and filtering are simplified drastically by defining the right attribute sets.
Effortlessly perform category mapping
Category mapping involves determining a marketplace category for your products to ensure they get listed in the correct category on different marketplaces. For example, if you were selling cosmetic products, it would have to be assigned to the beauty category on the Amazon marketplace.
Correct category mapping also enables effective management of product data feeds. You can develop the right ecommerce product taxonomy structure for your products to accept product data feeds from various sellers. Category mapping also includes moving products from old categories to newly-defined categories.
An integrated channel mapping allows you to onboard products from multiple categories to respective marketplace categories. Additionally, through product mapping, retailers can process their product feeds, map store feed categories to desired marketplace categories and merchant sites without disturbing the store categories.
Conclusion
Obviously, having a systematic ecommerce taxonomy with well-defined facets will help your visitors quickly navigate, spot, and gather product information.
Our ecommerce experts build GS1 and UNSPSC compliant taxonomies that meet the industry standards. We identify product types, categories, attribute values, analyze visitor behavior and competitor taxonomy structure before recommending a search-friendly taxonomy structure.
The SMEs help you devise taxonomies that drive traffic to your site, increasing sales and profits. Whether you want to tweak your existing taxonomy or develop a new one from scratch, Mobius can help you with customizing your online store. We offer our support in ecommerce product category hierarchy creation, product classification, category mapping, and grouping. Get in touch with us to know more about our taxonomy consulting services.