Amazon is surpassing Google. Yes, you read that right, when it comes to SEO for marketplaces you need to drive your energy and focus on optimization for marketplaces and search engine only to follow.
This is because a search on Amazon is not to understand a concept or get facts. Unlike Google, the search has a greater possibility of converting to sales.
While, Google says, "What results most accurately answer the searcher's query?"
Amazon says, "What product is the searcher most likely to buy?"
Amazon, a huge retail giant with over 200 million products, without a doubt, out-shines Google and deserves better SEO efforts from the seller's side.

Wait! Before you go ahead, the Amazon prime day 2018 is around the corner, have you thought of tracking what's missed out? If you haven't, no worries! We've curated an all-included handy editable checklist for you to organize your prime day SEO efforts.

Now getting back to SEO.
As a seller, you will be more interested in the customer buying your product, which is why SEO for online marketplace is important.
Have you ever thought about how Amazon brings results when you search for a widget? Amazon has a beast of search engine called 'A9' that makes your life easier.
SEO for e-commerce sites is about identifying all possible keywords related to a product and listing them in the order of importance. These keywords are those that users might possibly use while searching for a product. Focusing on these would increase your chances of ranking better and being chosen by the buyer.
Apart from keywords, good product description, images, pricing are the other important factors for better search performance.
These aspects contribute to better performance in the search results that ultimately increases the possibility of being chosen.
$259,000 – That's the amount of money Amazon will log in a minute. And in just one day, it will log more than $372 million.
That's the potential you can tap out if you win visibility.
Tips and tricks for optimizing listings
Product data
Product data is everything that describes a product – Title, features, description, images, benefits – including availability.
A great product data would include:
Title, with necessary details – that is discussed in detail below
Bullet points – All the major features/benefits of the product that are accurately explained
A clear image of the product, preferably showing dimensions
Anyway, what connection does PDM have with improving search performance?
It sure does have, nailing the product data is absolutely important because the description or the features mentioned in the product data could be a part of the search term used by the buyer to search for a product.
Look at the following example of a watch sold on Amazon: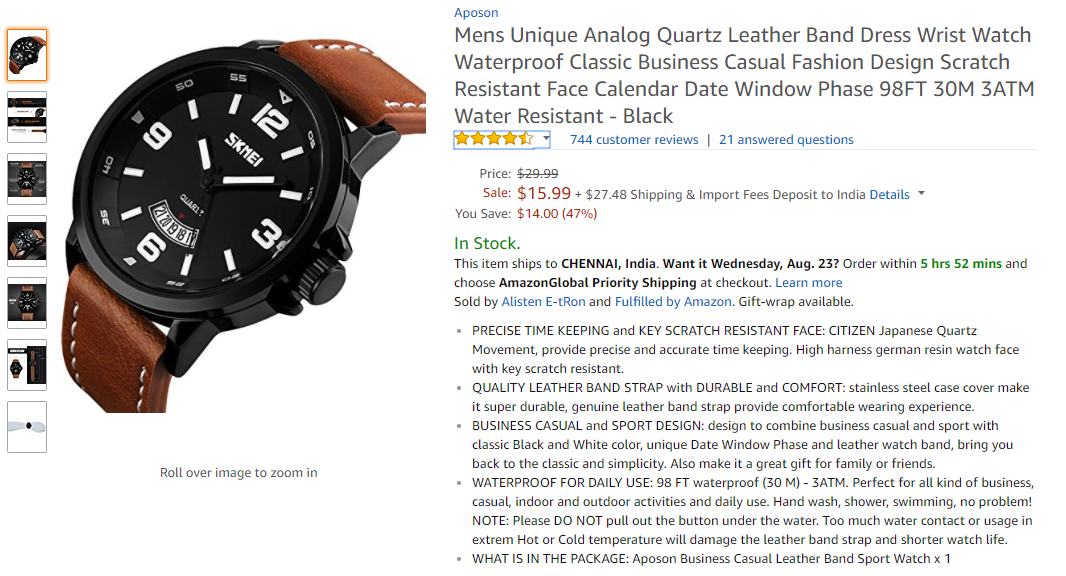 There is a clear title and bullet points giving all features/benefits of the product and clear images of the product in different angles.
The whole information from the title up to the bullet points is the product data. In this example, the title is just perfect giving all information about the brand, color, and unique differentiating feature.
The product data also has details about the ratings and reviews received by the product and the pricing details.
The bullet points clearly describe the features/benefits of the watch stating its quality, the material used, purpose and highlighting the striking feature of it being water resistant.
Getting this right will help in improving the discoverability of your product amongst a myriad of other sellers selling similar ones. Product data is an important differentiator when it comes to beating the competition and standing out.
Title
The title is already a part of product data. Does it require any special attention?
It does and here's why:
The title is the first information the buyer learns about your product. It should reflect everything the buyer is looking for – quantity, color, pattern, material etc.
Your title should be very strong as it is one major factor that a marketplace search engine algorithm considers for ranking your product. Making your title strong does not necessarily mean that you stuff it with keywords.
The title should essentially have the required information that is search friendly. The primary keyword, that is, the one that is the essence or the core description of the product which is the most relevant to the search should be highlighted in the title, other important aspects – prefixes and suffixes to follow.
The title should typically include:
Brand name
Product purpose
Key feature
Quantity
These are the most important aspects of a product title. But apart from this, take a look at the following example: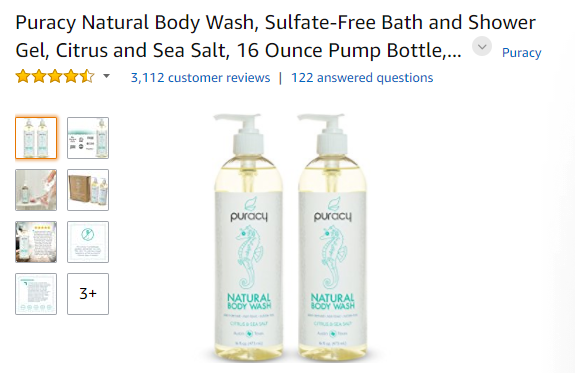 A user who is looking for a shower gel would just use this to search for the product. Puracy, has not only used the primary keyword in its title but has given all the major highlights as a part of the title. The buyer would get the whole picture right here – the quality, fragrance, quantity and the dispenser type.
Now, puracy would not only rank first on the SERP but also will have a higher possibility of winning a sale as everything that a buyer is looking to understand about the product is pretty much in the title itself.
Although, you should be mindful of the character limit which is 200 characters and try to fit in all the significant details within that.
Keywords
Keywords for SEO – So cliche!
What you need to know though:
The most functional aspect of search engine performance is the use of keywords in your content.
Keywords are the possible words that a buyer uses while searching for a product. This requires a lot of effort and attention because there are millions of sellers like you that sell similar products. You are amidst intense competition and a tremendous pressure to be more visible to the buyer.
How to pick the right keywords?
Let's go back to the puracy shower gel example.
If you are the seller for this product, then you need to begin by picking the primary keyword here, which is shower gel. Use this keyword to search on google.

These are the related keywords.
Skim through the related keywords, this is important because google tells you what keywords buyers are actually using while searching for a product.
Next, you can use google keyword planner to find related keywords. This is particularly helpful in understanding the search volumes and choosing the most relevant terms with high popularity or search volumes. Ranking highly for search terms with higher search volumes means more potential traffic and conversion potential for you and your store.
These are some very good keyword tools we recommend:
Ubersuggest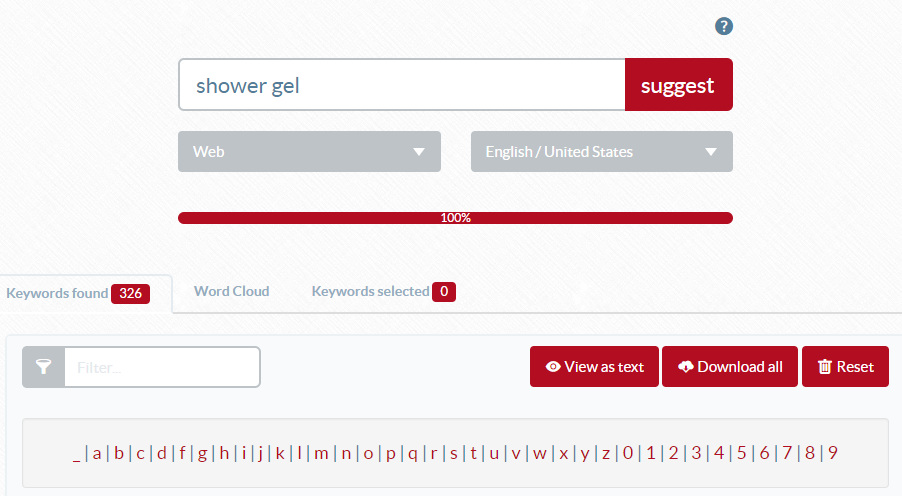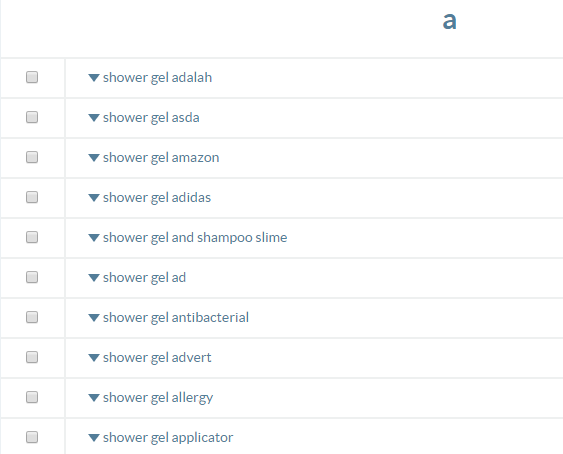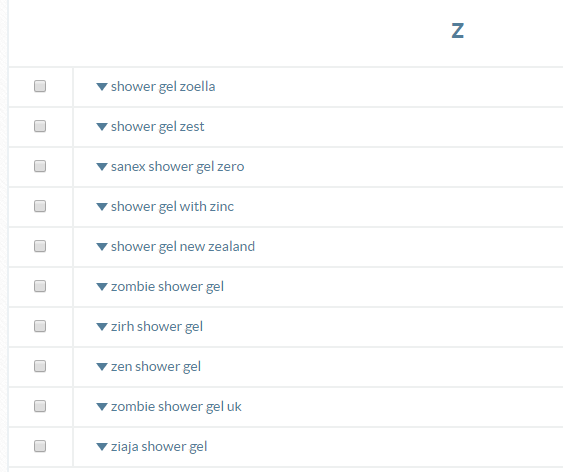 They scrape google for suggestions by taking your keyword and adding every letter of the alphabet from A to Z capturing the most frequently searched permutations.
Other tools that work the same way:
Keywordtool
Wordstream
These tools are free and all you need to do is, type in a generic search term in the search box and get all possible related keywords that are actually used by people to search for the product.
Once you collate a whole repository of keywords, begin your keyword filtering process only to pick the most relevant, popular, high-in-demand keywords that actually works and would make a difference. Pick those that you think that has a high possibility of being used to search.
Long-tail keywords need not necessarily be a part of your final list as the causal search culture like"how to" and "where can" etc. are only used on search engines to hunt for a product, whereas in marketplaces it is pretty direct. The buyer would just use a specific keyword like Samsung smartphone or Galaxy s8 instead of "where can I buy Samsung galaxy s8"?
Talking about long-tail keywords, it would be more appropriate to tap into the trending voice search for a product online. The voice searches like Google is embedded in almost all android phones and Siri on ios phones. There's even a home assistant – Alexa by Amazon for a voice search.
When it comes to SEO for marketplace it would make sense to optimize the content to make it perform well in a voice search. To do this, you need to embed long-tail keywords in your product content, the reason being, the casual search culture gets extremely conversational when it is a voice search.
You can score well by including critical keywords and a good touch of conversational terms as pointed out in this post by infront webworks
Using right keywords in your content (product data, blogs, promotional materials) will help the search engine identify you as the right and most appropriate result for the search and improve your chance of ranking higher.
Pricing
Pricing can make or break your business. It contributes big time in better rankings and out-shining competitors.
How to get this right?
Pricing of a product plays a huge role in its ranking. Pricing strategies or intelligent pricing helps in ensuring that your prices are highly competitive, that is, it is not too low and not too high.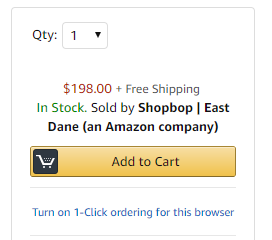 Such pricing strategies helps in improving sales. When sales increases, your visibility, revenue, possibility of more reviews increases and this helps in advancing in the search results page.
You can read our blog here to get more insights on retail pricing strategies and competitive intelligence.
Get the right prices for your product through intelligent pricing strategies and just don't stop there, as pricing is an ongoing process, so is SEO – the more you update and tweak your prices to stay in the competition, the better is your possibility to rank higher.
Backlink to your listings
Respect this, because backlinks can really back you up!
As we all know, websites that receive many inbound links are more likely to rank higher in search engines. The easiest way to get links is to use your own accounts on social media such as Pinterest, Facebook, Tumblr, or Twitter.
Keep your social pages active with posts that link back to your product listings. Sharing on social media can have a huge impact on your SEO, particularly, when a post gets liked, shared or commented.
Smart ways to link building
Content marketing can help in building backlinks to your store if the content qualifies to be highly informative and compelling that is irresistibly shared. It could be anything – blogs, how to videos, audios etc.
Getting reviews from bloggers or experts from your niche could really boost backlinks and high-quality traffic to your store.
How do you get them to review your product?
Start following them, comment and share their blogs and build a rapport with them.Once you have established that connection, pitch an email to them requesting them to share a review with their audiences.
Getting in the press can provide a powerful backlink from high ranking news domains.
Depending on your product you may want to start with a local publication and then slowly work your way up to larger ones.
Wrapping up
Every seller out there is doing their best to sell the best product, gain more customers and earn huge revenues. What they need to focus on is, improving their visibility online- only to sell more and grow.
SEO is very important to improve performance, that can be achieved through optimizing your content.
A recent survey in Amazon indicates that only 30% of product listings are optimized. Think about the opportunity here, optimize your content with Mobius knowledge services and win the top-most slot for yourself in the largest e-commerce market.
We have been helping key sellers gain visibility, improve conversions and optimize their content for over a decade. We offer a multitude of services around search engine optimization including – keyword research, pricing intelligence, product monitoring and product catalog management.
Visit our site for a broader understanding of our offerings and see how you can benefit.
Nandhini
Blogger and Community Manager