Customers have a lot of questions. So many questions about the product because they don't like spending unless they are sure and have all their questions answered by you. As a retailer, you have products onboard across popular channels but you are not present to influence purchase decisions.
Product data is doing that on your behalf.
Product data is the ultimate set of information about the product that the customer gets to make a purchase decision. It needs to be well planned to anticipate and cover every bit of information that your buyer is possibly looking for before hitting on that "checkout" option.
Let's buy a sports shoe on Amazon and find out if we have answers to our questions in the product data.
Our generic search term here would be "running shoes women" in the search box.
So, these are the top results!

How did these brands get here? What did they do with their product data?
Let's pick the one in the first ranking 😀
Are you with us?
Let's start!
Here we present to you a ten-point checklist for a complete and clean product data:
The title is the first information that a customer perceives about your product and search engine considers for ranking your product.
Hence it needs to be crisp and complete, covering – brand name, product category and feature highlight like so in our example here.
Review about a product is a huge conversion magnet because it is honest recommendations from people that have purchased and used the product. Include the review summary in the main product data box and hyperlink it to the entire review content.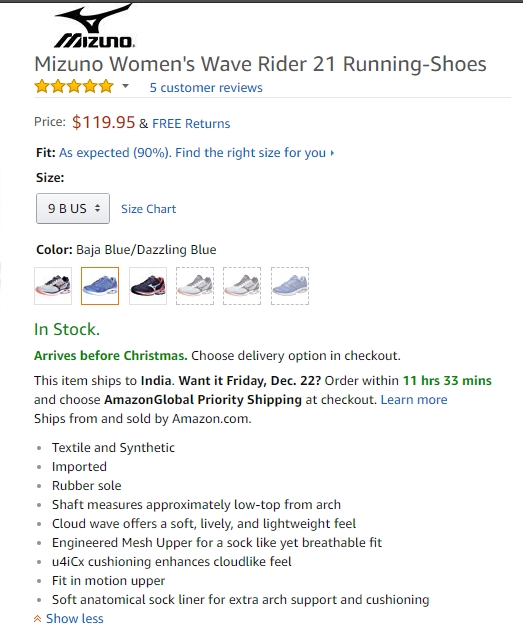 It is not a perfect catalog if it does not provide options for customization, particularly for products like apparels and footwear.
In the above example, there are details on the shoe sizes and options for varied colors. If I was looking to buy shoes I would definitely look for a supplier that gives me options on the colors front. You would too, right?
Stock availability & delivery details
This is the most significant detail that a customer would actually be concerned about. You have to clearly state the availability of the product in the product data itself. If you give this information once the customer proceeds to check out there are chances they would never choose you again.
Keep this data highlighted and legible in your product data box.
This constitutes the core content of the product data and this is where the customer is fully equipped with information and this has the highest influencing capacity to tempt a purchase.
That being said, you need to keep the features as crisp and informative as possible. You have to give details about quality, the material used, purpose and highlighting the striking features.
Price is something that needs no reminder. These are something that has been worked on and are always included as a part of product data.
But, along with prices you need to give details about return and refund policies and shipping details as well.
The term "free returns" gives the following hover box that clearly states aspects associated with pricing.
Images give the customers the visual appearance and we cannot do away with this because with just description no one is going to buy the product.
Description needs to be complemented by images giving a 360-degree view. It's essential to let customers see products in detail, so zoom in options are an absolute yes-yes.
Video works, really. Especially on fashion sites, they help in selling clothing that helps showcase complex products.
This allows customers to see how the product would actually work for them which otherwise is impossible through just static images.
Now, in this video, you can actually tell about how good the cushioning of the shoe is and gives an idea about the comfort while walking. This cannot be perceived through images.
Now, apart from buy now options these "add to cart" and "add to wishlist" are also important call to action buttons because even if the customer is not going to make a purchase right away but still is interested in your product it would be nice if they could save the purchase for future.
Your role in this would be to make this button visible and highlight it by distinguishing it from other elements on the page.
Shoppers can promote your products for you. These sharing buttons will help you spread the word across channels and you can find no other medium as powerful as social media to invite traffic to your website.
Even if the customer does not buy your product due to pricing or unfavorable delivery dates they may still like your product and would like to recommend, that is when these buttons would come in handy.
Keep this checklist handy: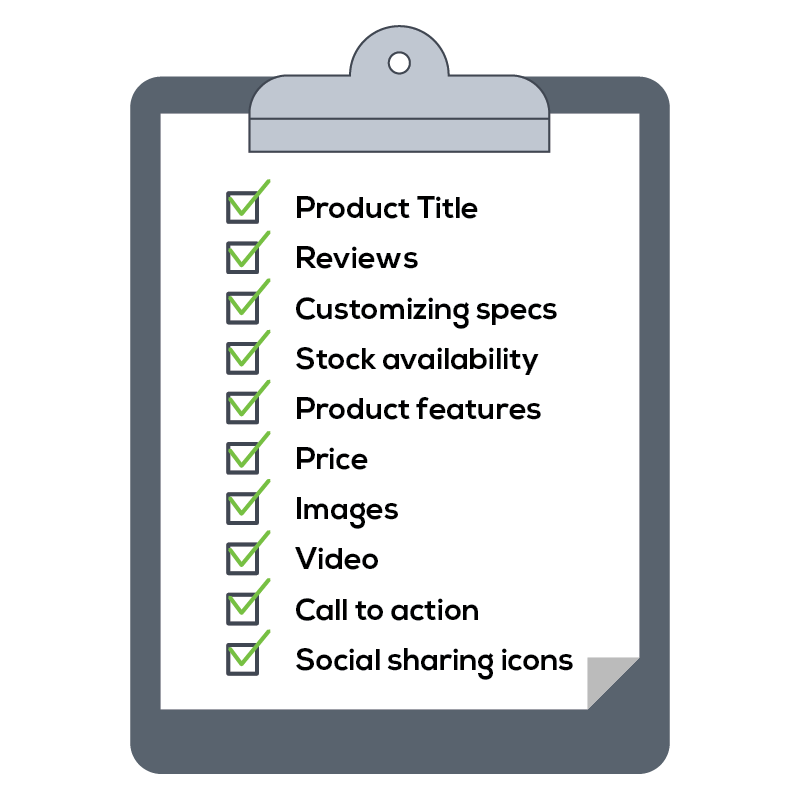 That was your quick checklist for a spectacular product catalog. Check these off for a clean and converting catalog that does tons of good to your business by helping you gain, retain and satisfy customers and improve conversions.Feel free to share other tips in the comment section below.
Nandhini
Blogger and Community Manager