If you are a marketer immersed in social media, you must have surely desired to exchange places with Netflix's Emily in Paris. But for those who do not have a hint of what this is about, Emily in Paris is an original Netflix series about a woman who shifts to Paris as a marketing specialist without knowing the language or traditions. But why was she so peculiar in the eyes of marketers?
Emily is known to get things done in ways we can't think of with her original ideas. She barely knew how to use hashtags correctly but figured out the secret to making every social media post go viral. Despite the language barrier and the criticisms, she rose to become one of her agency's top marketers, thanks to her out-of-the-box thinking!
Apart from the many life lessons she taught the viewers, the show as a whole opened the minds of marketers. So, if you are a marketer who dreams of being "The Emily" at your office, here are some notable takeaways from the show:
Keep your audience at the heart of all your marketing initiatives.
Making users part of your marketing effort increases their sense of importance and brand loyalty. Emily provides a lot of insight into the customer experience, which is the key to all her campaigns' success across the entire series. Ultimately, what users think of your brand, marketing initiatives, and products determines everything. Therefore, creating marketing campaigns for and about the clients is important.
Here's an example from the series. While marketing for a firm that sells mattresses, Emily installs the brand's beds across Paris' most attractive locations. She then leverages social media to invite visitors to "sleep on" Hasten, the brand. The catch was that whoever tried the bed could take a picture and upload it on their Instagram, tagging the brand and thus spreading the word about Hasten beds (making the brand's work much easier).
Be inventive and try new things.
Another great thing about the series is that it certainly encourages marketers to propose ideas without fear. Emily motivates the marketing world to be innovative and creative. She usually gets excited to present ideas in the series and responds well to criticism. She also plays a lot with content concepts for all of her clients. One example is when she decided to organize a client event on a cruise because there weren't any available locations.
Own a unique social media presence.
Maintaining a solid and consistent social media presence is crucial for brands. Additionally, networking will pay you long-term if you aim to excel in marketing your brand. Here's what Emily said, "It is not just about followers; it is about content, trust, interest, and engagements." As soon as she landed in Paris, she figured out how to overcome the many barriers of life and work in an organized way, and she found ways to get to know Parisians through her friends and coworkers. But how was she able to gain a strong relationship with her social media followers? She was truly consistent and active on social media. She caught the attention of her followers through her scenic pictures, short-funny videos, relatable hashtags, and catchy captions (and, of course, her fashion).
Regarding her work aspects, she collaborates with her clients and introduces them to important figures in her social media network. This networking enables her to overcome numerous obstacles and produce quality material at work. Whenever she doubted her options, she hopped to social media to conduct a poll. She then used these results for her ideas, which is clever because you satisfy your customers by doing what they want.
As Emily stated, "You should develop significant social media interactions to grow a business." One of Emily in Paris's most significant marketing takeaways is this. Emily constantly makes a point to mention the brand on social media creatively. She creates the brand's profiles using photographs that speak for themselves. Indeed, because of this, Savoir, the company at which Emily worked, moved from where it was to where she took it.
Remember, content is power.
Content reigns supreme in the realm of marketing. You may visualize your brand's marketing objectives and conversion targets with a strong content strategy. It also assists you in developing a plan which your clients may enjoy.
For instance, Emily and her coworkers hold long and productive sessions on the show to develop content plans for each client. They generate ideas and select the finest ones from the group during internal meetings. Despite the many hurdles she faces during these meetings, like language trouble and mockery from her boss and coworkers, she still stays determined and gets her ideas through the table.
Enhance the customer experience.
When Emily smells the cologne that her client, Antoine, sells, she comments that it has a poetic scent. She adds, "Your perfume doesn't represent what you smell; it represents how you feel." That's true! Your customers use your product regularly because of its positive customer experience. It's an encounter that creates a relationship with a company and boosts trust by making consumers feel at ease.
Hence, allowing your customers to access your brand is important. Give them a sense of who you are and what you give. But to ensure that they fully comprehend your brand, you must provide them with an overall experience because it ties customers to your products, gratifying customer needs and achieving your goals.
Get influencers on board to vouch for you.
Influencer marketing is a type of promotion on social media wherein the brands work with influencers to attract their target group and improve brand awareness, thereby boosting sales. It is one of the latest essential lessons in advertising and promotion. Working with influencers – whose followers closely resemble the target market for your brand – is essential. It aids in increasing the number of viewers your brand has access to.
Your brand's social media presence may gain more connections and interaction due to this. Emily places a lot of emphasis on influencer marketing. For instance, she receives an invitation to an influencer meet organized by Durée. They are a cosmetics firm that wanted to promote its products through influencers around the Parisian roads. Despite having previously worked with the business Savoir, their advertising is now done internally. Being invited to take part as a micro-influencer for the company, it was at this event that she learned the importance of influencers.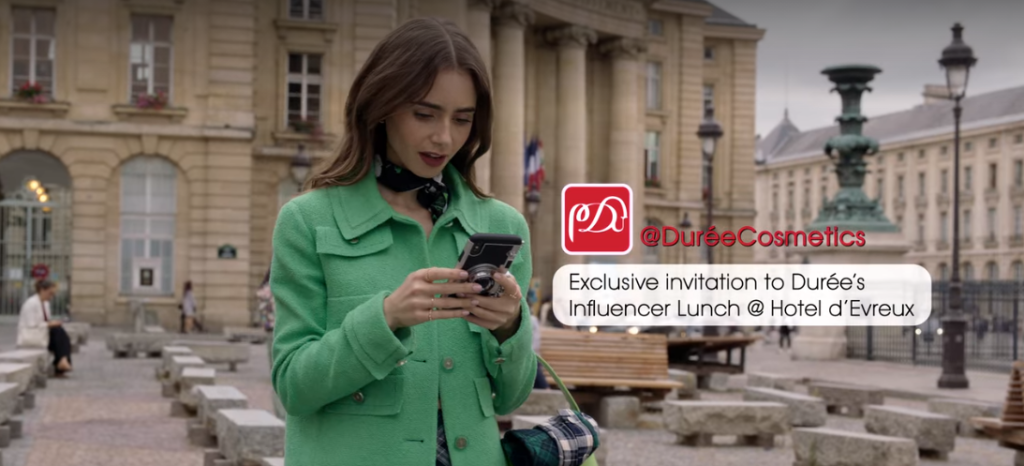 But is it all roses about Emily?
No! If marketers could generate ideas every second, there wouldn't be so much demand for the job, would it? The fundamental concept of idea generation was fantasized to a larger extent, making us all want to be able to create content like Emily amidst facing life and work issues. Despite this, the takeaway is simple. Marketing is not a day's job. It is a curated art of consistency, hard work, creativity, and a pinch of fun (to enlighten the work).