Real estate companies deal with massive volumes of leases in their day-to-day business. As a result, the need for sound infrastructure and an efficient property lease management framework becomes crucial for smooth functioning and overall growth.
While many companies manage to keep tabs on their lease portfolios, they still need to complete the comprehensive lease management process for streamlining and maintaining a centralized data repository.
Most businesses rely on tedious and time-consuming spreadsheets or third-party software that requires prior knowledge or training. However, end-to-end lease management services can reduce the load off the shoulders and are more result-driven and accurate.
Also, the newly introduced lease accounting standards IFRS16 and AS842 further establish the need for professional lease administrators' support to tackle complex lease scenarios and help businesses meet compliance goals.
Whether your company is leasing properties or making property investments, you should know the total cost incurred on lease administration and how to reduce time-intensive processes and systems hindering your growth.
What is lease management?
Most companies assume that the lease agreement only mentions the property rent expenses and that paying the rent on or before the stipulated dates meet all the conditions mentioned.
But lease agreements are more complex documents that contain tax, CAM details, and more which require a thorough understanding by both parties. Here, lease management involves reviewing the lease agreements in detail,  accounting, preparing financial reports, and maintaining easily accessible databases.
A streamlined lease management process will help you make actual rental property payments and save you from overcharged expenses.
A research forecast estimates that lease management will generate $6,252.3 million in revenue in 2027, with a growth CAGR of 6.7%.
How property lease management is tied to real estate business growth?
Lease management is the day-to-day execution of administrative tasks associated with the company's lease portfolio.
It is a collaboration of multiple tasks, including reporting, document management, stakeholder coordination, updating and keeping track of lease data, renewal periods, and other administrative tasks.
Companies looking for lease management services should know there is no one-size-fits-all solution for property lease management. A team of certified professionals, known as lease administrators, needs to understand your business challenges and suggest custom processes to manage administrative tasks with an efficient, quick turnaround.
Need for an efficient property lease management framework
For organizations dealing with multiple leases, proper management of lease agreements becomes crucial. The following are some tasks that require coordinated lease management support from the administrator team.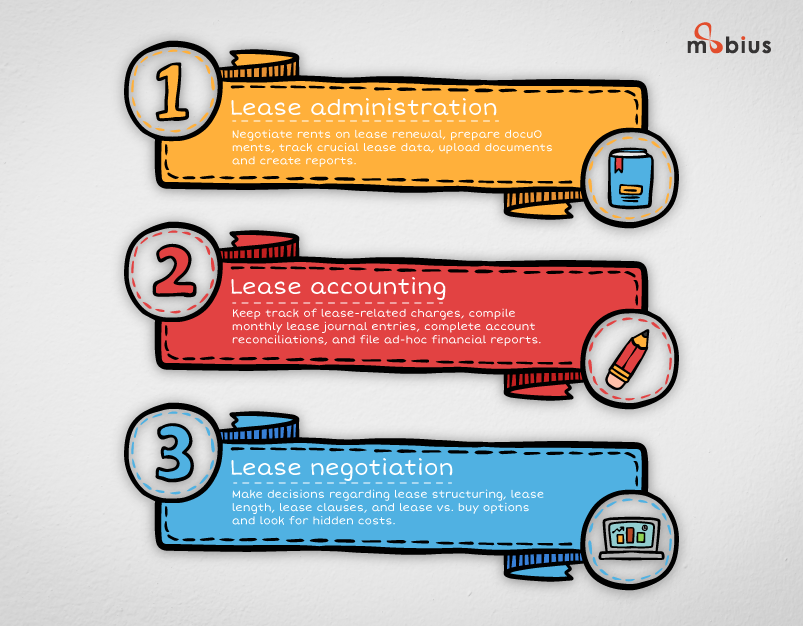 Difference between lease management and property management
Lease management and property management may sound similar, but both are different.
For a clear understanding, lease management focuses on keeping track of the company's asset portfolio. In other words, it is about ensuring on-time rental payments and maximizing asset performance management. Here, lease administrators perform the entire administrative tasks for a company.
On the other hand, property management is handled by a separate company, preferably property owners. Here, property managers keep an account of rent collection and take over building maintenance and its functionalities on behalf of property owners.
Understanding the property lease management process
You may wonder why a proper lease-management process is so imperative. According to revised accounting standards, companies must compile the right-of-use asset and lease payment liabilities on their balance sheets. FYI, in old accounting standards, lease financial details were not considered and had less impact on accounting reports.
The new accounting standards bring more change and significantly impact financial reports for lease administrators to consider adding entire leased portfolios. Companies should have an adequate lease management process flow and professional support to avoid poor lease decisions and mitigate risks.
The updated accounting standard brings lease negotiation, lease administration, and accounting under one umbrella for centralized data records and improved audit capabilities to simplify the lease tracking process.
An adequate lease management process flow requires cross-functional collaboration with accurate lease data insights and skillful administration support.
Ways to strategize property lease management
Centralize lease data management
For precise lease tracking, the first step is to gather lease data in a central repository to help teams access data from a single source and simplify the audit trail process for all lease-related decisions and modifications.
This method of centralizing data will help administrators achieve FASB/IFRS compliance according to updated accounting rules.
Choosing a skilled and experienced lease administration team for lease tracking tasks and auditing expenses can eliminate the chances of errors and data integrity problems.
Establish result-driven leasing policies
A qualified lease administrator can ensure your lease data is maintained consistently. They can keep records of which leases are working well and which are expensive to your company. By using these insights, you can standardize leasing decisions across organizations.
Lease negotiators, administrators, and accountants can work with financial leaders to improve current practices and create cost-effective leasing policies.
Compose lease requisition and update processes
Establishing standard practices for professionals who acquire, manage, terminate, and renew leases is imperative. This practice will ensure easy access for lease accounting teams.
Proper lease management with skilled professional support can help consolidate lease data for FASB ASC 842 implementation, and professionals often update the lease data changes.
Set up administrative controls
To meet the newly enacted lease accounting rules, considering leases while updating the balance sheet has increased the complexity of compiling financial reports. Internal monitoring, proper validation, and thorough oversight are essential to ensure accounting accuracy.
Streamlining the administrative process through standard policies and procedures can help make better decisions and reduce extra expenses.
Benefits obtained from optimizing the lease management strategy
Implementing the proper lease management process and applying the right approach will benefit your business in many ways. Below comes the list of benefits you can obtain from effective lease management strategies,
Achieve global accounting compliance
Save administration costs and time
Tackle loss and approach risks easily
Understand market performance
Increase ROI with accurate reporting
Get higher returns with accurate insights
Forecast your growth better
Conclusion
Property lease management is a flexible and reliable solution to all lease administration challenges real estate businesses face. While working with lease accounting compliance and lease obligations, the above-mentioned standard lease management practices and policies become crucial.
If you are looking for a solution or lease management services provider to help you keep all lease-related processes compliant, feel free to let us know your requirements here.