Change is the only constant. Social Media, as we see today, has taken a different shape than before. It has grown to become a tale of scaled-up interpersonal connections. The need for instant communication and the development of digital technology are the two primary elements that contributed to the evolution of social media.
In the last 25 years, the traditional communication medium has slowly faded from our memories. Do you remember when we used to message each other using the hundred-SMS-per-day scheme? The fear of losing out on important information and not having any other means to message made each text more meaningful. But those days were a long time ago. No restrictions on the quantity of SMS exist today. Now, there are no restrictions on the number of texts. We no longer have to worry about an incorrect message. Today there are many ways to delete or edit messages. (But Twitter is still an exception. Users have bated breath!)
But Twitter only became popular many years after the first networking site – SixDegrees. Founded in 1996, SixDegrees was the first social networking channel in the world, where networking was minimal compared to what it is now. Here's what it looked like: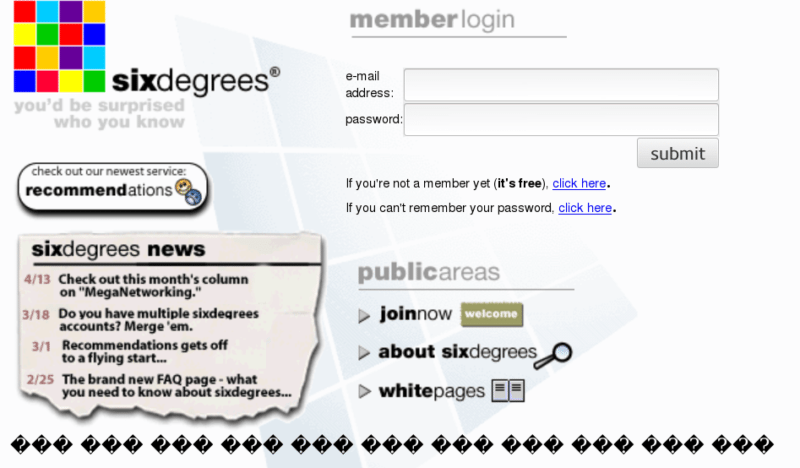 Thanks to the growing technology, we moved further towards using new networking sites such as Facebook, LinkedIn, YouTube, and Instagram. While these platforms may seem like no more than basic communication means, there is so much more to it. It has allowed us to share, connect and evolve in a way beneficial to one another. It has tempted people to view facts and news and be part of it.
In addition, it has also brought in means for businesses to trade goods and services, making way for online shopping and finding the best people and organizations to network with. The global social commerce industry is anticipated to reach USD 6.2 trillion by 2030, with an annual growth rate of 30.8 percent between 2022 and 2030. The benefits keep growing endlessly with each step we take toward technological advancements.
So, before we hike into the future Digi-world, here's a quick nostalgia run on how some famous social media networks have evolved over the years.
Facebook
Facebook is the most popular social media platform, with around three billion users. It was established as an online social networking service in 2004, which later became part of the Meta company in 2021. Through its multiple features, Facebook has maintained its users and popularity. From user-friendly homepages to numerous buttons, it seamlessly allowed us to communicate.
What's surprising is that Facebook's history is more complicated than it seems. Being introduced as an online space for university students to compare and rate the attractiveness of one another's pictures, the company was first called Facesmash. Since it breached university guidelines while acquiring resources, Facesmash was eventually shut down. But with the little support that Mark Zuckerberg had, he redesigned and launched the site as what we now know as Facebook. Here's how it initially looked in mid-2004:
In September 2004, Facebook added a new feature called the Wall to profiles, allowing people to post updates on each others' walls. By 2005, it also added a feature called Tags to pictures. This update has been a motivation for many other social media platforms that we see today. The following year, Facebook saw a significant turning point when it was opened to everyone above 13. And in less than a decade, it became a billion-dollar company. Here's how it looks now after it became a part of Meta: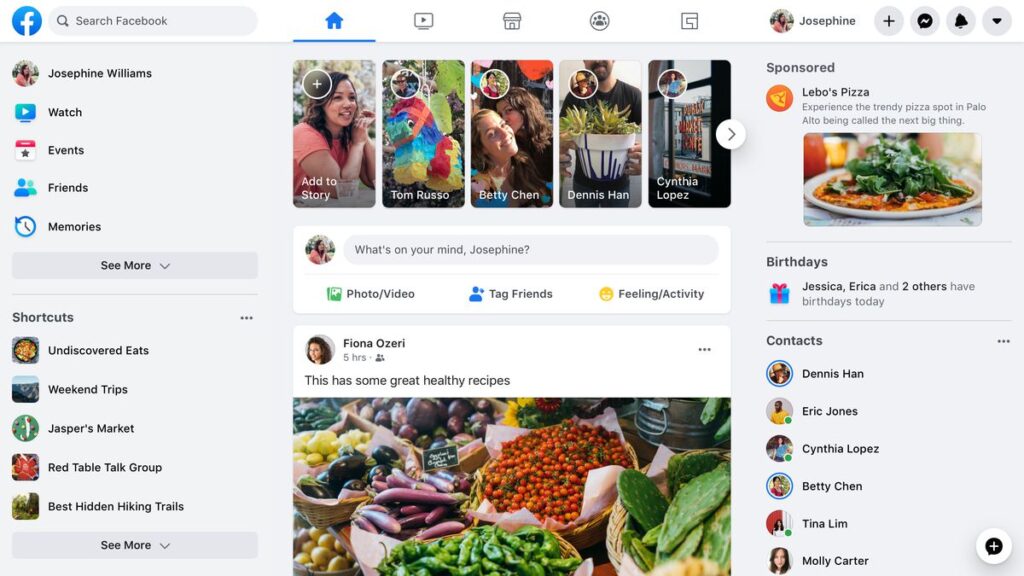 LinkedIn
LinkedIn is a professional social networking website established in 2002. It predominantly focuses on the user's professional contacts, unlike other social networks frequently used for entertainment. Users of LinkedIn have a higher chance of advancing their careers by looking for opportunities that fit them best, making contacts with companies, founders, and recruiters, and a greater opportunity as a learning platform.
However, this was not the case when it first started. In 2003, the growth was too slow as it had minimal functionality. Later in 2005, it began its services that let companies find prospective candidates by posting job openings. From then on, it has become one of the world's top social and business-oriented networking sites. Here's what LinkedIn's homepage looked like then:
YouTube
There is no best way to introduce YouTube, for its fame is spread even to the smallest towns in the world. Do you recall what the very first YouTube video was? It was a video titled "Me at the Zoo" posted by one of the co-founders, Jawed Karim. Founded in 2005, YouTube was established as an entertainment website predominantly for videos. It has unquestionably advanced in the media landscape, moving from quick educational videos to lengthy entertainment series.
Unlike other social media platforms, YouTube's success and growth escalated quickly. A critical milestone in the history of YouTube is the implementation of the Partner Program in 2007. This initiative allowed content creators to monetize their efforts through their videos. But the company did not stop there! In 2010, YouTube made it possible for millions of people to watch videos live. And to think this was the start of a massive trend is mind-blowing! As the nostalgia kicks in, check out how YouTube initially looked:
Instagram
Instagram, widely recognized as the top photo-sharing platform, has stepped into its 13th year in April 2022. It only took eight weeks for the development of the app in 2010 (can you believe it!), but the success it obtained was multifold. In just two years after its establishment, the company was acquired for one billion dollars by Facebook (now Meta). To help create revenue from Instagram, Facebook introduced sponsored content, allowing users to advertise their products and make money from them. The software has undergone multiple modifications since then to improve usability. Check out how different the app looks now compared to its initial version in 2010: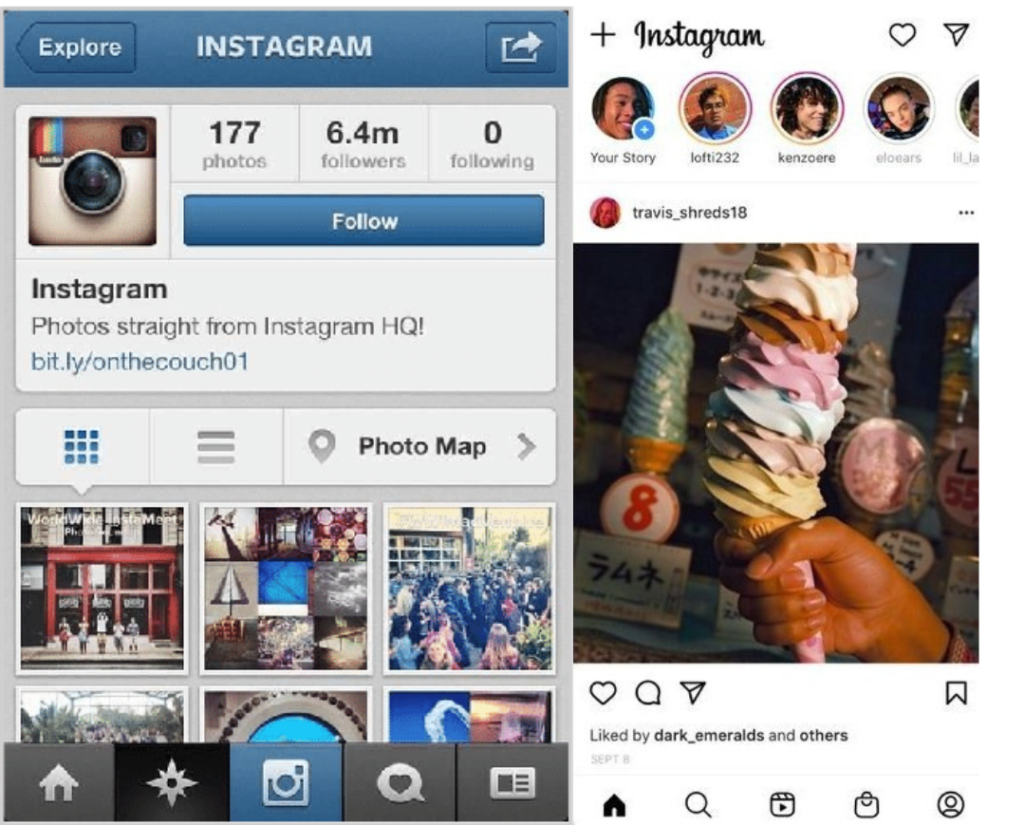 The first logo of Instagram might look like chalk and cheese to many. From the logo to the homepage design, there are so many changes that the company has made to make the app better for common users, creators, and businesses. One of its viral features is the Reels. It allows profiles to create small videos for easier sharing and viewing. But, one is bound to question if this has become the next TikTok. The latest update in its app has made all videos less than 15 minutes to be viewed without a pause/play button. For some of us who enjoy noticing the details of the videos by going back and forth, this feature is a total buzzkill.
While these popular platforms have grown enormously over the years, other trending social media apps and sites like TikTok have also had their share of success. TikTok, launched in 2016, easily made it to the list of top downloaded short-video apps, but it was eventually banned in many countries because of national security issues. And its fans, as yet, still hope it reenters.
From mere dots and dashes, we have come a long way to network with one another. This driving force makes product builders create better social media products/apps worldwide. Apart from social acceptance or display of one's life stories, social media has been beneficial in spreading public awareness, especially in crucial times of Covid, floods, and protests, as a voice for the voiceless.
When our doors were shut to the outside world during months and months of lockdown, technology gave us a different dimension. Even the ones who hated social media earlier now grew to use it more. From celebrating the good news to asking for help and to sharing grievances, social media made it possible to be there for one another. In the end, when we were forced to see less, it opened a door for us to look beyond the horizon.

You can follow us on our socials – LinkedIn, Twitter, Facebook, and Instagram, to catch up on some warm social media content.