We are excited to announce that we have revamped our website, mobiusservices.com. This change reflects the external manifestation of what we have been up to for the past few years and reflects the digital revolution we have been driving for the world of possibilities.
Not that the old website was bad. But we have grown into a much larger space now that our website should reflect what Mobius stands for as a brand. A brand that is home to a multitude of products, services, and solutions that cater to the needs of various industries in terms of data, technology, and solutions.
We power thousands of companies with their business decisions and make their digital ambitions come true. We've been a leading data and technology company delivering excellence to drive business the digital way for almost two decades now.
Ideas that were once on draft now have life to them. And the website that started as a marketing launchpad now has wings that it has become a rocket engine that propels many more ideas to the sky.
So, what's new on our website?
With this new look, we aim to offer an uncluttered and clean experience to navigate through our list of offerings. Our vision is to empower businesses with data and technology to make digital transformation easy.
Our Services
Our customized data, analytics, and technology services help companies replace multiple manual interventions with intelligent processes, significantly eliminating the cost and error incurred. Our SLAs (Service Level Agreements) and data privacy ensures to provide a seamless customer experience to take the digital road with complete control of how it could fit your unique business needs.
We believe clean and curated data, coupled with the right technology, can solve great problems posed by the business for its resilience and growth. We strive to bring solutions to handle the modern era of the internet, data, technology, and AI. Some of the custom services we offer in research, aggregation, technology, and innovation includes: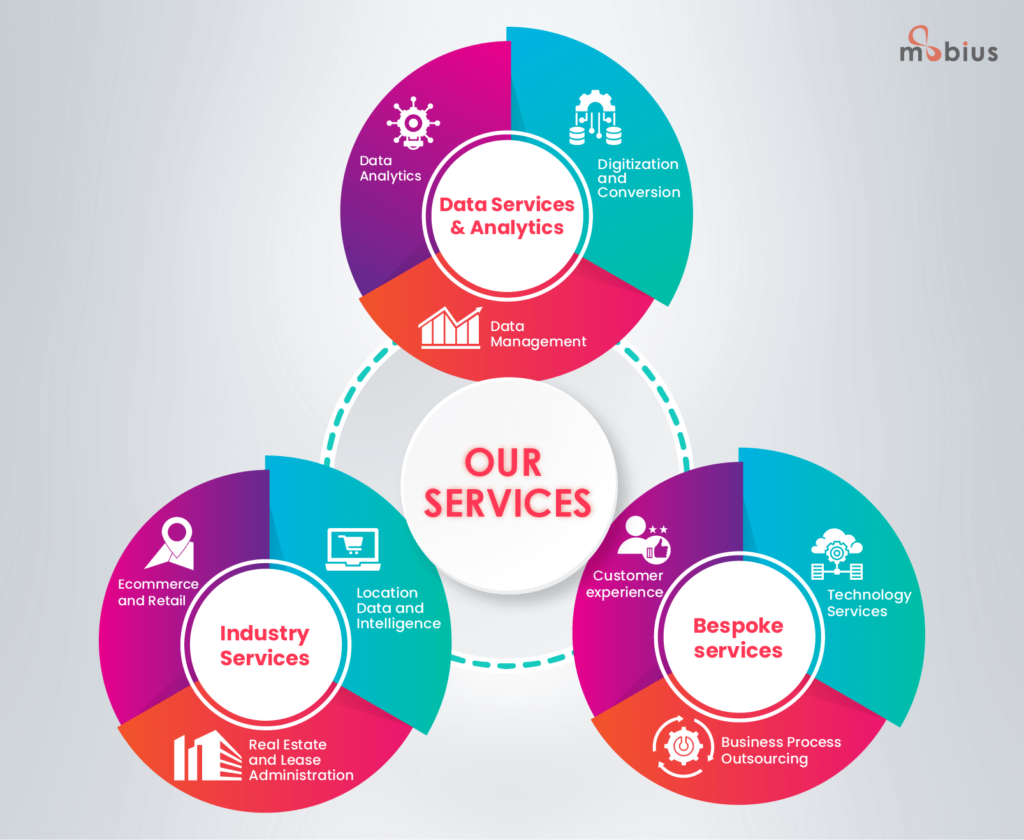 Our Products and Brands
Our brands help businesses of various sizes champion complex use cases that underpin various business operations and strategies. One of the brands, Xtract.io, has been a pioneer in implementing data solutions and advanced workflows for companies to scale their modern business operations. 
Our startup studio, ProMobius, incubates innovative ideas across the data and technology spectrum. And our technology wing, TechMobius, solves emerging challenges in the technology landscape. These three major brands work at solving specific business objectives with the vision of Mobius in heart and spirit.
Apart from this, our broad range of products and platforms solve unique business use cases to drive strong business strategies and provide seamless customer experience. Our products offer solutions for myriads of industries, including ecommerce, real estate, travel & hospitality, location, automotive, and much more.
To learn more about our products, brands, and services, check out https://www.mobiusservices.com/
We also would like to take this opportunity to thank our customers for trusting us for decades to bring a world of digital possibilities.