Over the 20 years since we established ourselves in the data and technology industry, Mobius has had the opportunity to serve various clients on different levels. We have set footprints globally, from data analytics and management to ecommerce and real estate. Here's a note on what we at Mobius believe.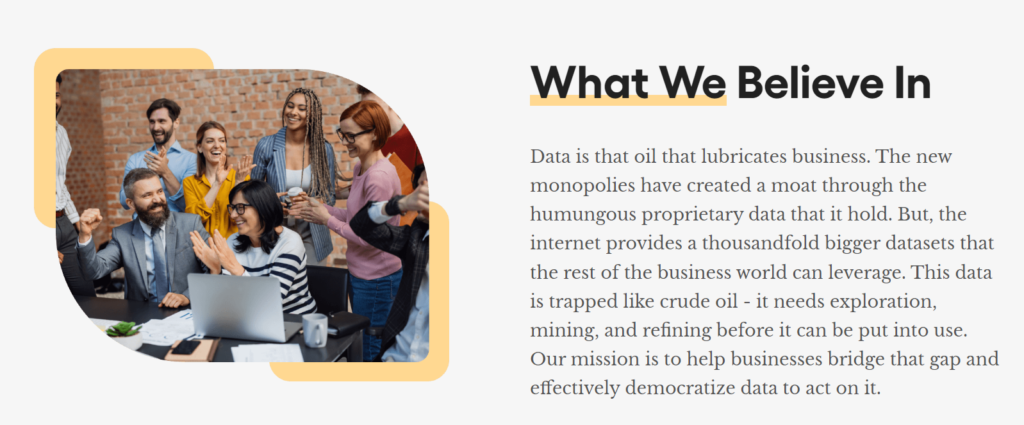 Data runs the world. Hence, it is imperative that we begin to incorporate the right tools to manage data effectively. Are you wondering how data management works? Here are some real-life use cases that we worked with.
Attention information providers!
Are you looking to increase your operational efficiency? Do you require the best data management tools and solutions for your business? We at Mobius have had many opportunities to help businesses in this industry in simplifying processes.
Here's an example. A lead information provider from London had to delve into a treasure trove of information to present rich and accurate analytics and research intelligence. A robust, scalable, and easily accessible web-based document search management system became the need of the hour to smoothen the collation of data by the researchers. We recognized the business's difficulties and developed a comprehensive application to upload, index, tag, download, bookmark, subscribe and search documents with a simple user interface. Our work brought all the documents to a single repository, skyrocketing the operational efficiency and productivity of the editors. Click here to know more.
But we did more than this!
Apart from generalized businesses, we also extended our services to various industries worldwide. Following are some notable works of Mobius in the data management domain.
A US-based leading global provider of legal and public-records-related information had an urgent requirement to build an editorial content management system to manage legal information to create, manage and distribute content across various platforms in different formats, thereby increasing operational efficiency and control. Hence, we developed a complete web-based content management system using Java, J2EE, MarkLogic, and MySQL and integrated it with legacy tools using Perl, XML, and XSLT XML technologies. The solution provided a single source for all content, thus improving operational efficiency, editors' productivity, and interoperability. Learn more about this case here.
If you are a B2B business in this industry looking for similar solutions, here's a story on how we helped a key player in B2B commercial space collect and validate business executive information from nearly half a million companies across the globe. Our experts identified the authenticity of the data sources for valid business information. This data had to be retrieved from about half a million company websites within a limited time frame. As an information provider, you would know this was the biggest challenge. But with the help of a hybrid approach to aggregate the data points from the huge volume of sources, we were able to package and validate the aggregated data. We resolved the problem in 6 weeks with more than 95% accuracy. Here's more information on this use case.
Construction industries face multiple economic, political, and legal challenges. Of the many, one pounding problem are the huge bundles of legal clearances and tender information that must be documented and managed securely. But many face trouble with this. Here's how one such company based out of the US reached out to solve this problem. A leading information provider connecting people, projects, and products across the construction industry wanted to aggregate construction tender information worldwide from government/public sources. Serving over 2 million customers in the global construction industry, they required our technical expertise to build a robust database to dispense construction project information and track and aggregate thousands of trusted sources in real-time. Check out how we solved the problem.
Click here to learn more about this use case.
Not just simplifying processes, ] Mobius has the potential to extract complex information to smooth business operations. One such case was when we helped a leading air travel intelligence company based out of the United Kingdom to extract an extensive set of airline schedules, flight status, and travel details for about 93,000 flights across 183 airports. It was time-consuming due to complex HTML, site blockage, and proxy usage issues. But, the data aggregation experts at Mobius overcame the hurdle by identifying ideal sources for collecting and updating flight details such as boarding time, flight duration, departure time, delay, and cancellations and developed an automated system in just 4 weeks. The automated approach yielded 95% aggregate output accuracy in just 4 weeks. To know more about this case, visit this page.
Another prominent work of Mobius involved a solution for one of the world's largest information providers. They needed technical expertise to collect and aggregate real-time data related to gas commodities from 62 different operator sites. The major challenge was developing source-specific crawlers as different operators provided data in measurement units, like million cubic meters (MCM) and kilowatt-hours (KWH). Hence, an automated solution was incorporated to scrape and aggregate the data hourly. Regular checks were performed, and the normalized data were then checked for zero values or significant day-on-day fluctuations. With this, we ensured more than 98% accuracy in delivering consistent real-time data. Want to know more about how we did it? Click here.
The travel and tourism industry is one of the fastest-growing industries in the world. It is a dynamic industry that requires constant updation. To quote another example, here's how we helped a travel industry research authority present hotels, points of interest, and event details from different countries, all aggregated on their site. They also wanted hotel facilities, terms & conditions, booking rates to be populated, and various points of interest around hotels. The volume of data was colossal, with more than 120 attributes from almost 50000 hotels apart from 7000 events and 40000 places of interest globally. But here's how we helped them skilfully.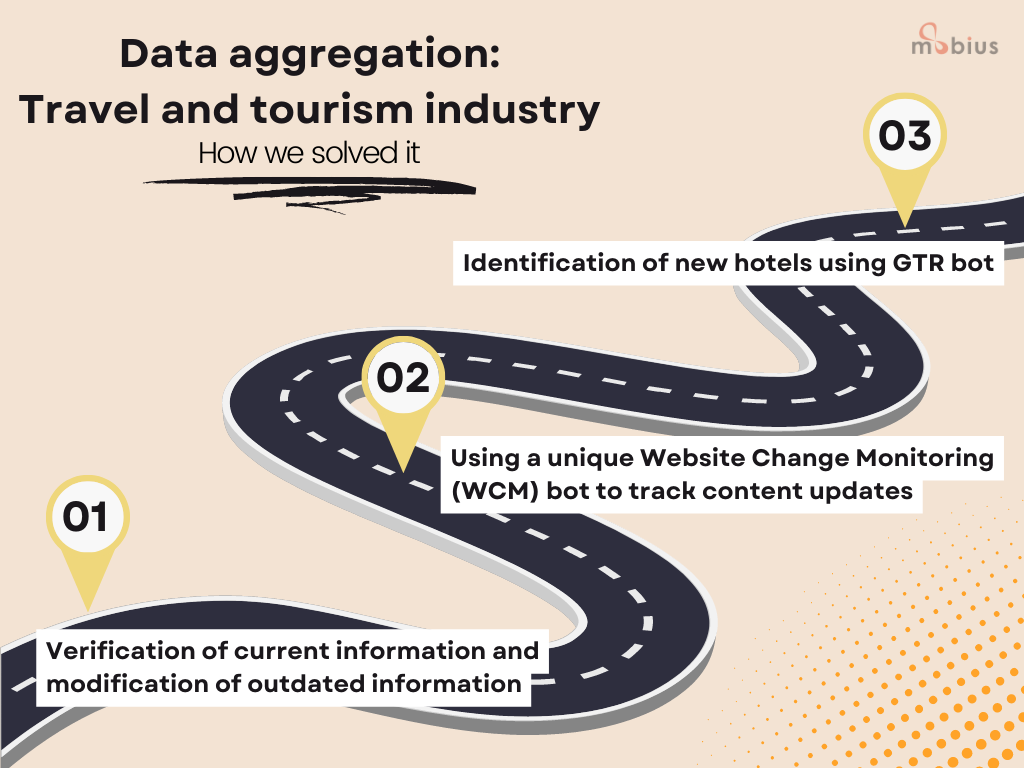 If you want to know more about this case, visit this page.
The above use cases have shown how each business has diverse data needs. An efficient data management system is a need of the hour for all businesses globally, as clean data management services help simplify, access, and analyze data across different stages in the value chain with a unified approach. Are you one such data-driven business looking to manage your data efficiently? Connect with us to align your data goals with your business strategy using our intelligent data services and build a unified data lifecycle management.